Case Study! Isos Technology Sales & Marketing Tech Stack Consolidation
In late 2019, Isos Technology, a top Atlassian Solution Partner, realized they had a problem. No matter how hard they tried, they had topped out in net-new revenue growth. Fragmented sales and marketing processes and software tools prevented them from smoothly running a sales and marketing pipeline or regularly assessing performance to grow.
When Isos came to us, we knew just what to do. Orange Marketing implements aggressive sales and marketing integrations and processes and educates clients on keeping the momentum going as business scales.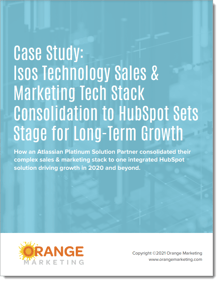 Download our new case study and learn how we helped Isos reduce and integrate their tools and processes with powerful results, including:
An increase in revenue over the past 5 quarters
A 30% increase on deals closed-won
A 19% increase in MQLs
A 15% increase in SQLs
And much more!
This case study is a must-read for technology companies needing to jump-start results or any company whose sales and marketing tech stack has become unwieldy.