Remove Group Emails From B2B Email Campaigns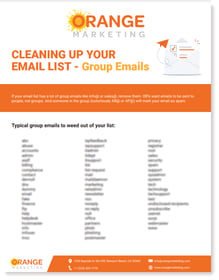 If your email list has a lot of group emails like info@ or sales@, you need to remove them.

ISPs want emails to be sent to people, not groups. And someone in the group (notoriously AR@ or AP@) will mark your email as spam.
Download our PDF to access a list of typical group emails that may lurk in your lists, so you know what to look for and can remove them from your marketing campaigns.
Use this resource to get more ROI out of your B2B email campaigns!