Marketing tools for B2B businesses!
You may be telling your prospects how you can solve their problems on your website, through emails, and via your sales team—but you need to show them how too!
Case studies are instrumental in painting a picture for your prospects on how your business solves real-life problems—and they make powerful tools for your sales team to use as proof to prospects they are working on.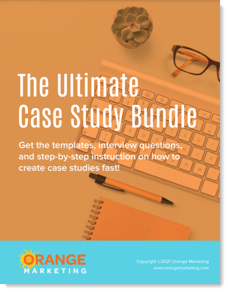 So, where do you start? There are a several steps to take in successfully creating a case study - and we have them all outlined for you with interview questions, step-by-step instruction, and more in our Ultimate Case Study Bundle!
Use our bundle to help you:
Follow an efficient workflow throughout the process
Prepare for customer interviews
Know what types of questions to ask
Keep a status record of progress
And more!
Download the bundle to get started!