Ebook! The Truth About B2B Email Deliverability.
Whether you're a B2B entrepreneur just starting or a seasoned B2B marketing executive, our new ebook will help you hit inboxes and stand out more successfully!
There are just so many moving parts to email marketing. There's the messaging itself, optimization tricks you can use, and employing personalization—to the more technical aspects of cleaning email lists, sending domain warm-ups for ESP acceptance, and conducting effective A/B testing.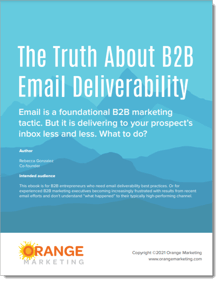 This ebook, "The Truth About B2B Email Deliverability," gives you what you need to set up a high-performing email delivery system:
Find out why you still need email in today's B2B marketing climate.
Learn common terms and metrics to benchmark email campaign progress.
Access email best practices every B2B marketer should know.
And much more!
Our goal with this ebook is for you to run email campaigns that work consistently, perform well, and win more business. Get started now!