The Ultimate Landing Page Checklist.
Landing pages are a critical tool in your demand generation toolbox. They allow you to garner interest in a product, downloadable, or event in a focused way enabling you to convert leads.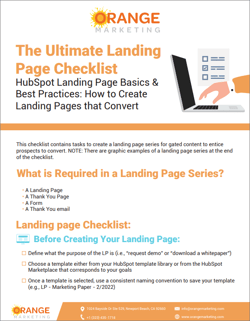 We are the experts in creating HubSpot landing pages and offer you a detailed checklist to help you become experts too!
Use our Ultimate Landing Page Checklist to:
Learn all the elements required
Prepare your messaging
The steps you can take to make creating landing pages simple
And much more!
The checklist is free! Download today!