The Ultimate Webinar Checklist.
If done correctly, webinars are a terrific way to get leads and create quick content for your website and for your sales team to use as outreach.
We run webinar campaigns every month for clients and have perfected what promotionals to send out, when, and what to do after webinars to gain the most ROI. And now we share our webinar checklist with you!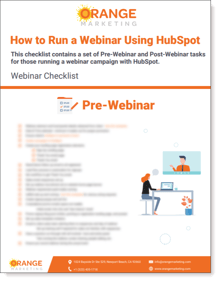 Download our checklist now for 29 must-do Pre-webinar and Post-webinar tasks that will help you run a smooth, well-attended live event!

The checklist is free! Download today!


Get Updates on CLEAN
Drop your name and email below to be the first to know when updates to the CLEAN series are released.