Ultimate Checklist For Creating Pillar Pages & Matching Ebooks
Use this checklist to support your Pillar Page SEO strategy.
Get the Ultimate Checklist Now!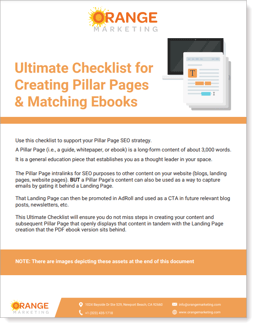 Your inbound marketing strategy should include ways to attract and educate prospects while enticing them to engage with your brand. And that is what a Pillar Page and matching ebook do exceptionally well.

A Pillar Page is a piece of long content, typically 3-5K words, on a real "eye grabber" topic of interest to your prospects that is used in two specific ways:

1) As a Pillar Page posted on your website for SEO purposes
2) And as a PDF, which supports sales processes and serves as a downloadable top-of-funnel offer for advertising

We have the process for creating these down to a science and now offer you a checklist to aid your efforts!



Use this free resource to get the most out of your Pillar Pages and matching ebook!